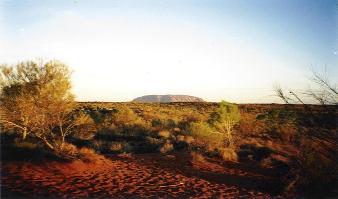 I took this photo of Ayres Rock (Uluru) on a recent vacation to Australia. I traveled by The Ghan train to Alice Springs.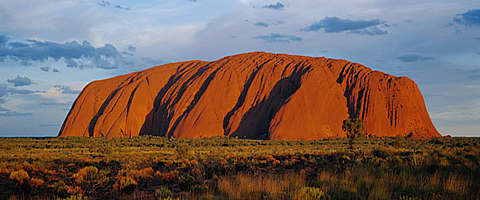 Take The Ghan train and experience spectacular desert colors of outback Australia
The Ghan is a strange name for a train service and comes from the term 'The Afghan Express' when Afghan camel trains trekked the same route before the railroad was built.
Assuming you travel the complete route, a journey on The Ghan train would take 48 hours and travel 1850 miles (2,979 km) from Adelaide in South Australia, to Alice Springs, and on to Darwin in the Northern Territory.

This is Wave Rock in Western Australia. I took this photo before boarding the Indian Pacific train from Perth to Adelaide.
Rail travel guides:
1. Trans Siberian railway tours
2. Switzerland's Alpine scenery by train

3. Reunification Express tour - Vietnam

4. USA Coast to Coast

5. Canadian Rockies and a journey on the Rocky Mountaineer

6. Australia & the Ghan Luxury Train

7. Discovering Japan by train

8. London to Jordan, by rail

9. China by High Speed rail

Click the above links to read more above each of these rail journeys.
If you have the time, Aussie is a wonderful country for a self-drive car or camper van vacation. Driving is on the left side of the road (the opposite to North America). The other thing to remember when planning your Australia car hire, or camper van hire, is that Australia is a vast continent and care needs to be taken when traveling through desert areas. For example, the Nullarbor Plain has long stretches of straight road and you need to watch out for local hazards like kangaroos.
Before booking your Australia car hire, do some research on the Internet using terms like 'Australia car hire' and 'camper van hire Australia'.
More about Aussie vacation packages and cheap air fares New Zealand and Australia
Airfares to Australia are competitively priced flying major airlines like: Qantas, United Airlines, Air New Zealand, Japan Airlines, Emirates, Singapore Airlines to name a few.
Many airlines and travel agents offer cheap air fares to Australia, cheap Australia deals and complete Australia vacation packages from budget to luxury travel. Search the Internet using terms like 'cheap air fares to Australia' and 'Australia vacation packages'.
You'll find a range of Australia vacation packages to choose from including: rail tours, resort vacations, farm stays, self drive Australia-wide car hire, cruises, camper van hire, group & escorted tours of Australia, eco tours, adventure travel and luxury hotel packages in Australia.
Australian car hire and camper van hire is a great way to travel OZ. This photo shows a hire car driving pass the Olgas in the Red Center of Australia. Cheap air fares to Australia are available as well as a range of Aussie holiday deals online from budget priced to luxury escorted tours.
To find more information on Australia vacations, Aussie car hire and cheap air fares to OZ contact a travel agent or tour operator.
Enjoy planning your vacation down under.
Click here to watch model train club videos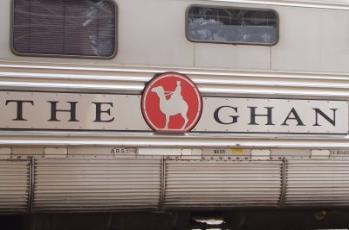 Many Australian holiday packages include a journey from Adelaide to Darwin via Alice Springs on The Ghan train.
The thing I remember most about the Ghan train trip was the spectacular colors of the Aussie outback. The golds, the reds and the wide open desert as you venture to the heartland of Australia... it is an amazing Australia vacation experience.
The Ghan stops at Alice Springs aptly named the 'Red Center' of Australia. Alice Springs is gateway to Ayers Rock, Kings Canyon and The Olgas.
Before booking, check various OZ vacation deals to see if they allow for a brief stopover (one or two days) in Alice Springs to give you time to see Ayers Rock and perhaps take a hot air ballon ride or helicopter ride over the Olgas.
Various Australia vacation packages also include travel on the Ghan to Darwin... gateway to the Kakadu National Park where you'll see giant crocs and amazing wildlife.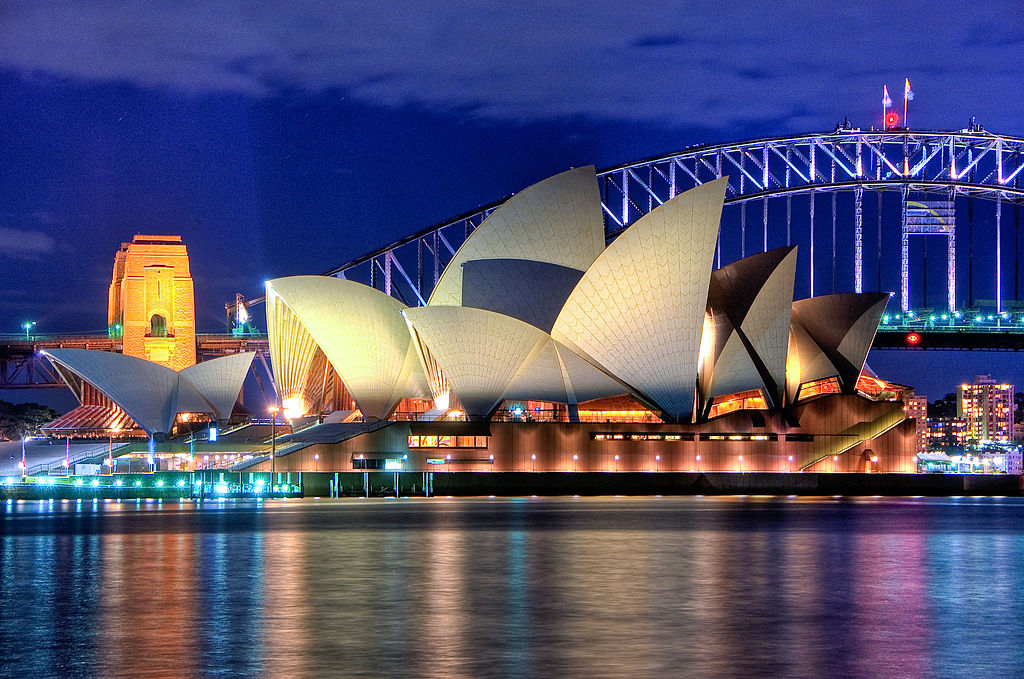 Sydney opera house, Australia.
The Indian Pacific Train Across The Nullarbor Plain... The World's Longest Stretch Of Straight Railroad Track (330 miles)
The Nullarbor Plain is a huge limestone plateau along the south coast of western South Australia and eastern Western Australia. The Nullarbor Plain stretches 100,000 square miles and includes limestone caves and rare vegetation and fauna.
The Indian Pacific train takes 65 hours, passes through three states on its way from Sydney to Perth. I boarded the Indian Pacific train at Perth in Western Australia and traveled to Adelaide before joining The Ghan train.
Check various Aussie vacation packages to see the options of traveling from Sydney or Melbourne to Adelaide by the Indian Pacific train, and then on to Perth on the Indian Pacific or connect with the Ghan train at Adelaide.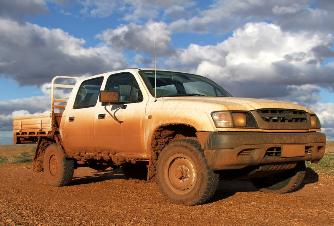 Hire a car or camper van is a great way to see the country, but be prepared for the conditions if you are traveling through the outback on your Aussie trek down-under.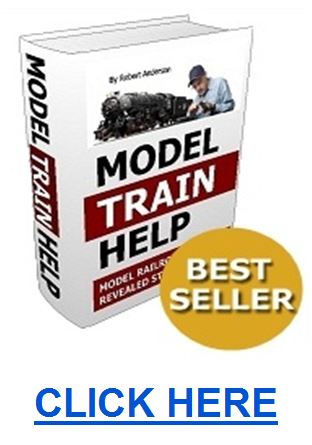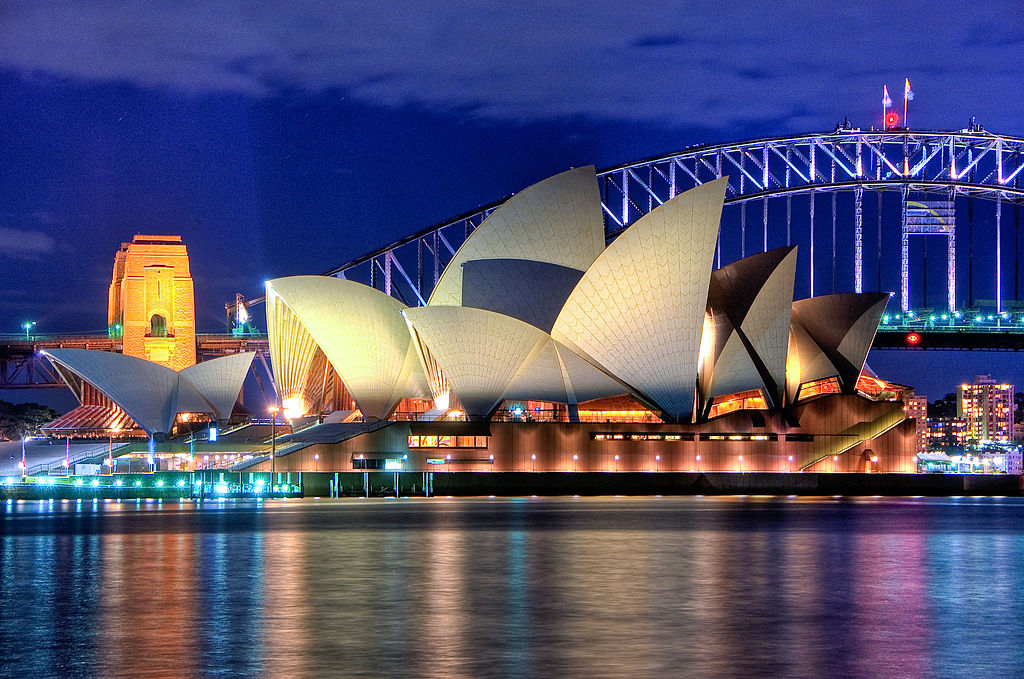 Opera House Sydney